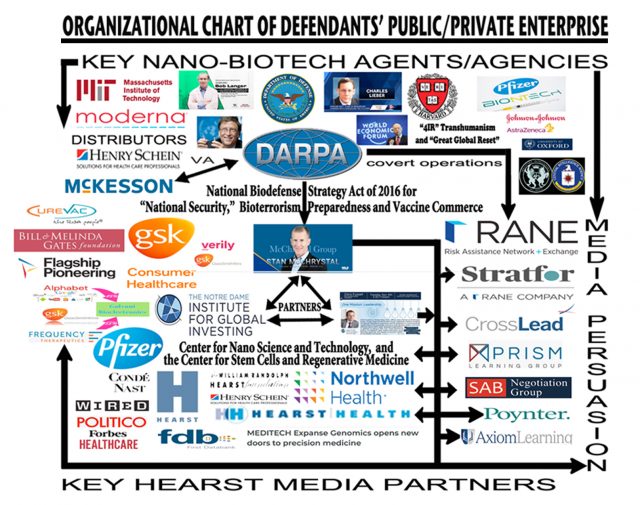 NEWS  RELEASE                                               
Release: No. 15-Pfizer/Moderna Lawsuit
Date Mailed: May 10, 2021
For Immediate Release
Contact: Editor—310-877-3002; Editor@MedicalVeritas.org
Pfizer and Hearst Move to Dismiss OxySilverTM Lawsuit Vetting Syndicate's Illegal Drug Enterprise, Electro-genetic Vaccine Data-mining, and Brain/Cloud Bio-electronics, Threatening the Religious World
Las Vegas, NV (MedicalVeritas.org)—Pfizer's move to dismiss a federal lawsuit claiming unfair and deceptive trade stifling sales of the vaccine and antibiotic alternative, OxySilverTM, reveals a crime syndicate concealing brain/Cloud nano-tech challenging the religious world, interfering with people's spirituality, and damaging OxySilver's pioneer, Dr. Leonard G. Horowitz, for more than a decade.
According to court filings, the cartel is violating the U.S. Supreme Court's prohibition against diverting the syndicate's psychotropic "religious drug" called the "God molecule"– DMT/ayahuasca–co-financed by the U.S. Department of Defense's DARPA Program.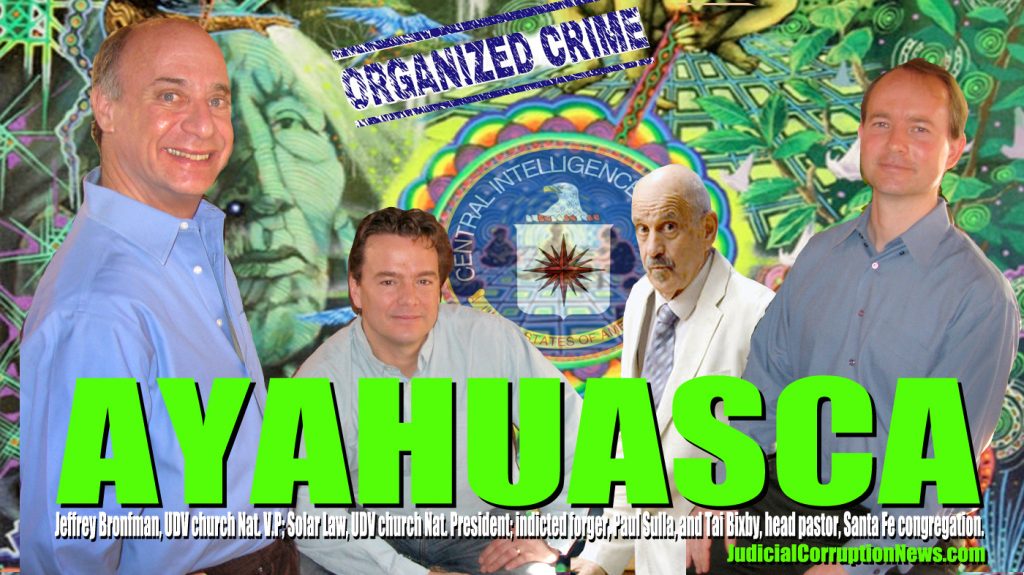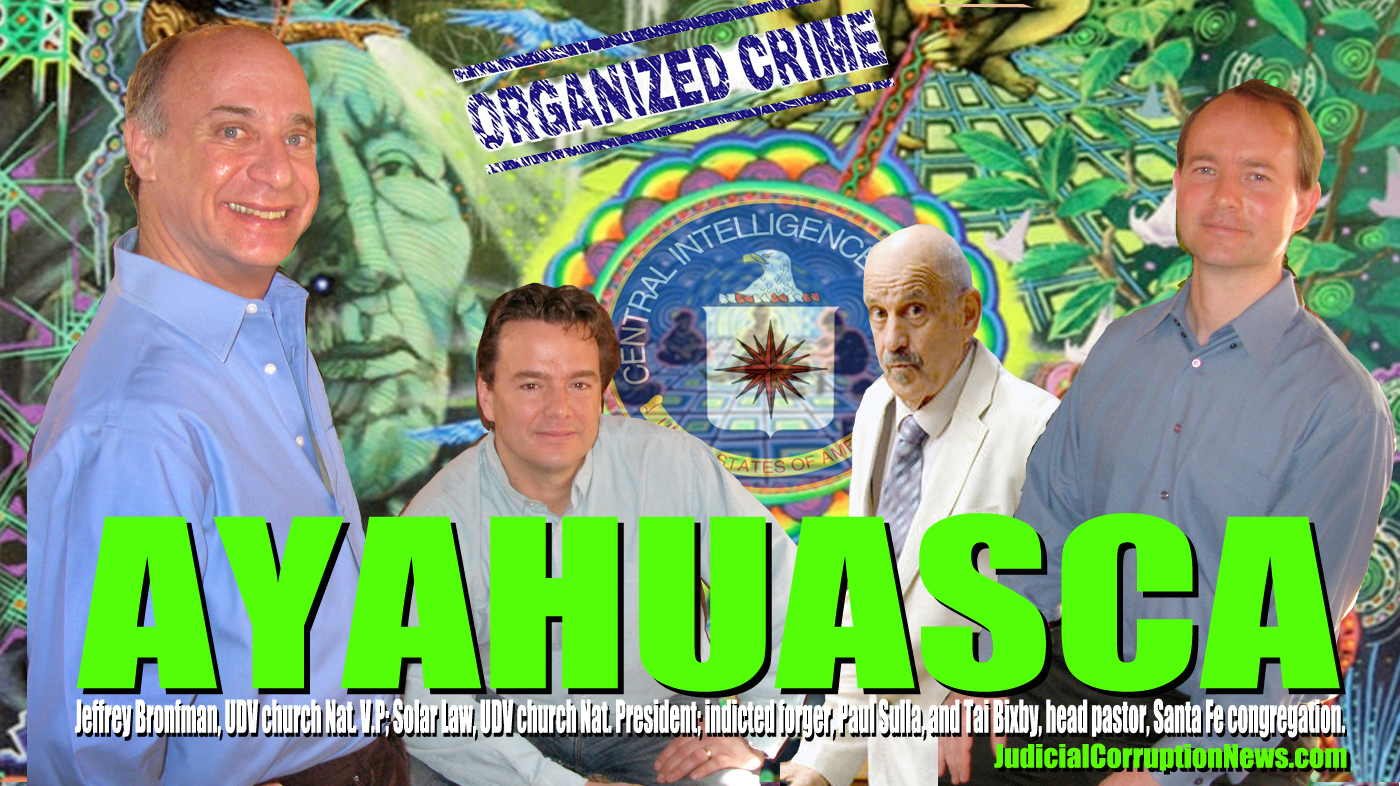 Pfizer's defense linked itself to the "God molecule" and its COVID vaccine "device" called a "hydrogel" delivering an mRNA "payload" capable of overtaking electro-genetic whole-body (brain and immune-system) function disguised as "data-mining."
The hidden ties to hallucinogenic drug research involve wireless brain/Cloud bio-electronics, financed by Pfizer, Google, and complicit DARPA investors, according to science filed with the court by Dr. Horowitz revealing this capability, endangering the religious world, and advancing by criminal concealments.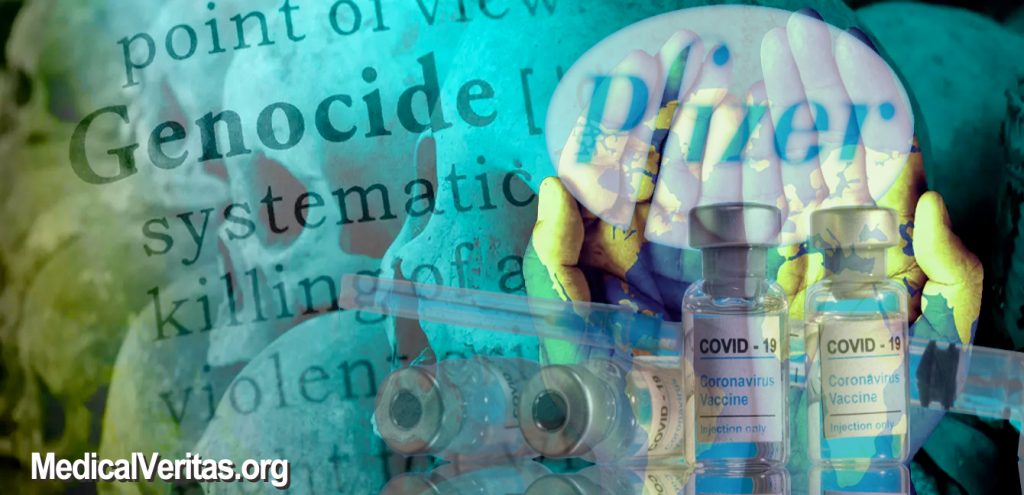 The religious world challenge is concealed within the little-known far-reaching military ADEPT program that advanced "novel tools to engineer mammalian cells for targeted drug delivery and in vivo [real time] diagnostics" capable of assessing the chemistry and activity of tissues and organs (virtually every cell) instantaneously through advanced cyber-software and hydrogel-injected nano-hardware.
A related capability integrates voice analysis to even detect "unconscious" behavior–thoughts, feelings and emotions–like a wireless lie-detector effective in people who lie to themselves.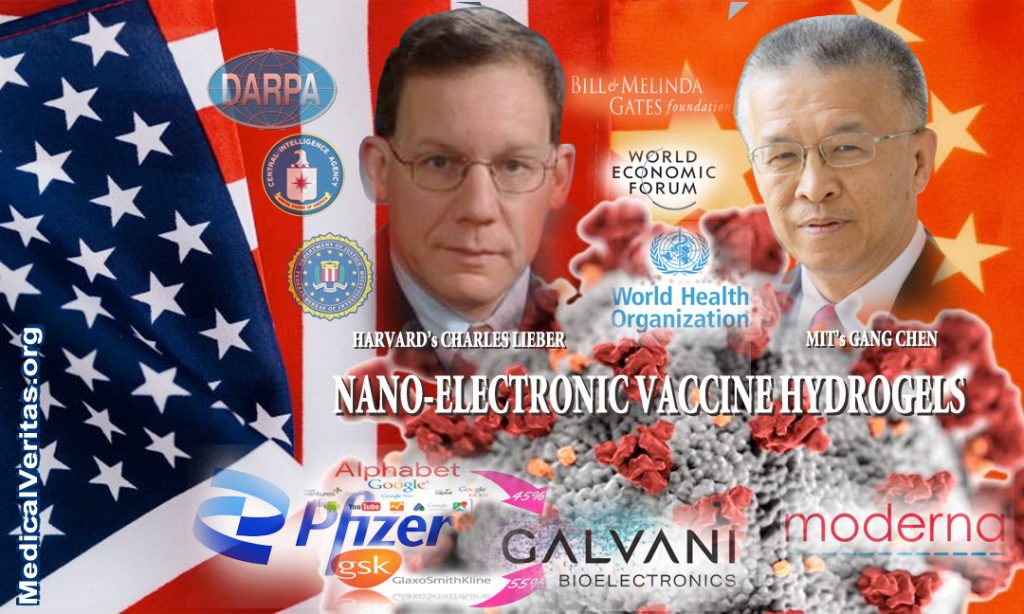 Developed under the military's supervision of MIT's Media Labs, the "app is intended to reveal unconscious signals" in the human brain and voice that "disclose information about relationships and state of mind," according to the federal contract with the Boston-based Cogito company.

These applications are being touted as "breakthroughs" in medicine, especially impacting "mental health."

Pfizer's related spin-off companies include "Frequency Therapeutics" and "Galvani Bioelectronics". They are already advancing the whole-body, free-will, spiritually-suppressive, religiously-repugnant, "data-mining" biotechnology. 
The illegal covert scheme and scandal has been "fraudulently concealed" and generally misrepresented by the "public/private" DARPA/drug Enterprise that OxySilver's pioneer has now exposed to judges, John Badalamenti and Nicholas Mizell, in the Middle District Court of Florida.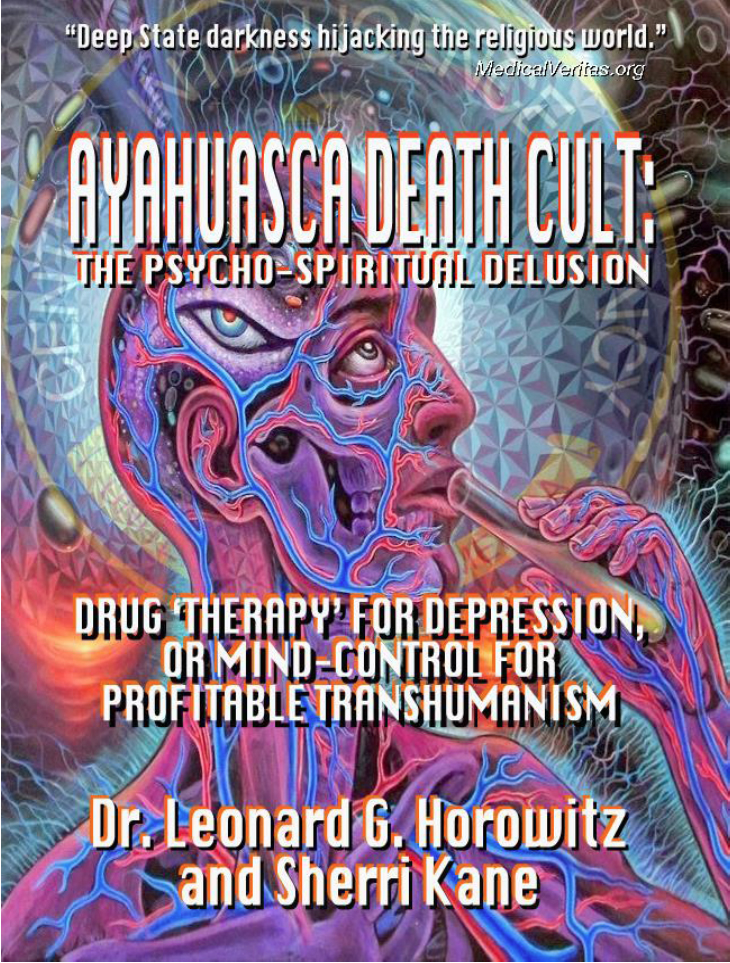 In 2019, Dr. Horowitz and his co-author Sherri Kane, published a book titled, AYAHUASCA DEATH CULT: The Psycho-Spiritual Delusion. Drug Therapy for Depression, or Mind-Control for Profitable Transhumanism" exposing what the court filings in Horowitz v. Pfizer et. al.  confirm—a criminal psychotropic drug "Enterprise" that is financed and administered by Big Tech corporations in partnership with government agents and agencies.
Clinical experiments using naïve citizens as subjects were financed by DARPA and the Defendants at Charles River Labs under contracts implicating world-leading Harvard and MIT neuroscientists, Charles Lieber and Robert Langer.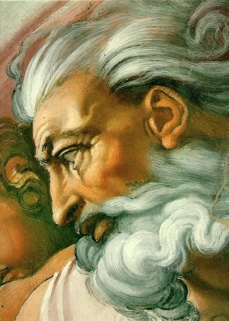 On March 25th, Pfizer filed a Motion to Dismiss Horowitz's complaint that alleges a "civil conspiracy" by Pfizer's "racketeering enterprise" to damage the doctor's reputation, family, estate, online natural health stores, and religious ministry registered as The Royal Bloodline of David.
Horowitz's ministry conducts "religious commerce" featuring the "528 frequency" that the doctor claims is the prophesied "key of the house of David" (Isaiah 22:22; Rev. 3:6-8). The frequency 528Hz has been repeatedly confirmed by neuroscientists to be a powerful anti-oxidant, immune booster, and nerve protector, that best explains the "miraculous healing" that Jesus and King David's "healing harp" administered as recorded in the Bible. (See: 1 Samuel 16:16; Isaiah 22:22; and Rev. 3:6-8) The 528 energy "wave" activates the oxygen-making pigment chlorophyll, and the greenish-yellow color in sunshine. It is central to the Holy Spirit that is recognized by all religions akin to "chi energy" in Oriental medicine, according to Horowitz's scientific publications and court filings.
"The cartel does not want this information to come out," Dr. Horowitz alleges. "That is why they shamefully and successfully moved the court to block this urgent 'discovery' in lieu of filing their motions to dismiss the case.
"That leaves us in need of prayers and metaphysical support to overcome the crime syndicate's influence in the court and increasingly in people's bodies."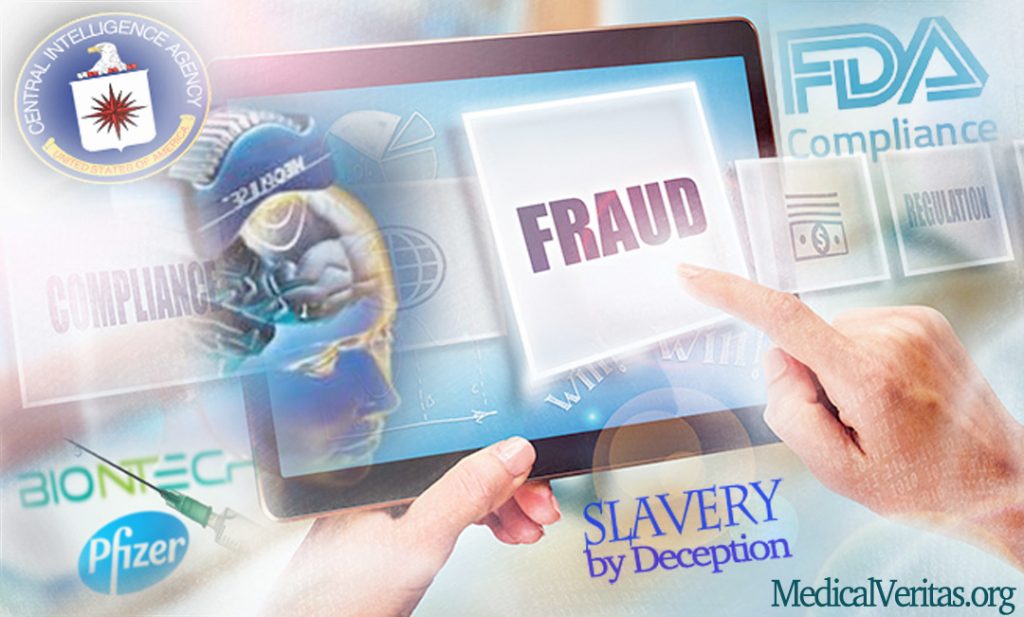 Reading Dr. Horowitz's opposition to the Defendants' motions to dismiss (downloadable through pdf links below) exposes the drug syndicate's Cloud-brain bioelectronics.
Big Tech is capable of unprecedented intrusions into vaccine recipients' bodies, privacy, genetic integrity, spirituality, and unnatural immunity. The full capability of this secular imposition reads like an Orwellian novel.
"Data-mining" is at the heart of the Enterprise's advancing commerce and population controls.  Everything from vaccine history to human memory will be wirelessly transmitted using the "novel" nano-bioelectronic hydrogel technologies advanced by the "racketeering enterprise," according to the court filings.
Quoting directly from the doctor's sworn Affidavit supporting his opposition:
       "The Enterprise has targeted me for disparagement and financial damage as a health professional, expert in the field of vaccinology and communicable diseases, and businessman integrating my religious beliefs and practices into my duty to serve society's health and safety.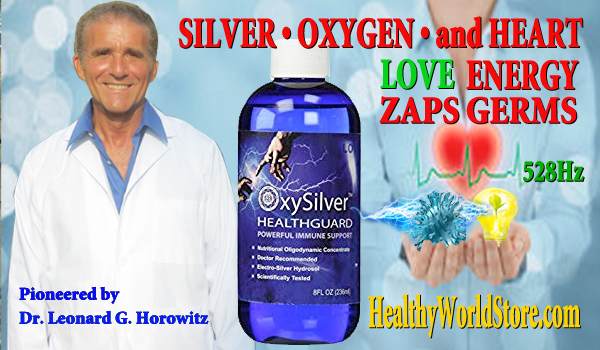 "The Enterprise deprived me of my civil rights and religious freedom by intentionally misrepresenting and smearing my fair and honorable service to society in 'alternative (natural) medicine' that features my religious/spiritually-based 528 therapeutic frequency discoveries and related commercial interests in products and services in the '528-industry'.
       "To damage my free and fair trade in 528-commerce, the Enterprise targeted my pioneering product called 'OxySilverTM with 528.' This 528-resonating anti-microbial, as well as other 528 products and services I brought to market, compete directly against the Defendants' drugs, vaccines, research, science, advertisements, and public health-impacting policies.         
       "The Enterprise has viewed and treated me as an unwanted competitor and nuisance to be 'neutralized.' They have repeatedly evidenced this attitude and malicious practice by exploiting their media to publish ad hominem attacks damaging my professional reputation; and by OxySilver disparagements restrained my free and fair OxySilver trade.
      "At the same time The Enterprise has infringed on my intellectual properties, taken several of my pioneering discoveries and applications in water science, electro-genetics, and nano-bioelectronics, and commercialized devices, such as vaccine hydrogels containing silver, copper or gold-infused electrodes that provide the most advanced methods for drug delivery, 'genetic therapy,' and wireless 'data-mining' enabling artificial intelligence to advance to new heights in neuroscience and medicine.
       "My Complaint factually details my religious background and religious/spiritual products and services. As a Levitical priest and health science scholar, and a federally-registered medical expert witness who has published prolifically in the field of HIV/AIDS, emerging viruses, and communicable diseases, I view infectious diseases, prevention, and treatment from a 'Christian Science' perspective.
"I advanced OxySilverTM from this broad view.  It is the first nutraceutical designed to be used with prayer. This claim is based on my Bible study intertwined with scientific research revealing the unique and powerful role 528Hz frequency plays in the musical-mathematics of creation, 'intelligent' design, water-structuring, electro-genetics, homeopathic 'memory,' metaphysics or spiritual dynamics."
Dr. Horowitz's Opposition to Pfizer's Motion to Dismiss exposes the drug company's intrusions into the religious world and spirituality, including the "God molecule"—dimethyltryptamine ("DMT")—under cloak-n-dagger 'lawfare' stretching from Johns Hopkins and Hawaii's drug kingpin, Paul J. Sulla, Jr. to the Bronfman crime family favored by the U.S. Supreme Court's chief Justice John Roberts' ruling in Gonzales v. O Centro Espírita Beneficente União do Vegetal (546 US 418 – Supreme Court 2006).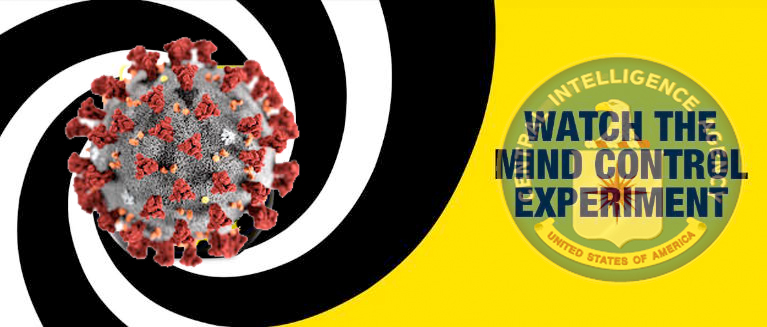 "It is very telling of the extent of illegal government control and 'population management' that the mainstream media, including the so-called 'independent press,' neglects this case, the science, and criminal activity involved," Dr. Horowitz said. "It just shows you who your friends are, or are not."
Defendants Pfizer, Moderna, Hearst, and Henry Schein filed to move the federal magistrate, Nicholas P. Mizell, to block discovery and dismiss Dr. Horowitz's case. Once the Enterprise's motions are granted, the urgent information the doctor evidences will remain hidden, and irreparable harm to society will compound according to the complaint.
[End]
To download pdf copies of Dr. Horowitz's opposition filings click the following links:
PLAINTIFF's OPPOSITION TO HEARST DISMISSAL
DR. HOROWITZ AFFIDAVIT IN SUPPORT
PLAINTIFF'S OPPOSITION TO PFIZER DISMISSAL
PLAINTIFF'S OPPOSITION TO MODERNA DISMISSAL 
PLAINTIFF'S OPPOSITION TO SCHEIN DISMISSAL