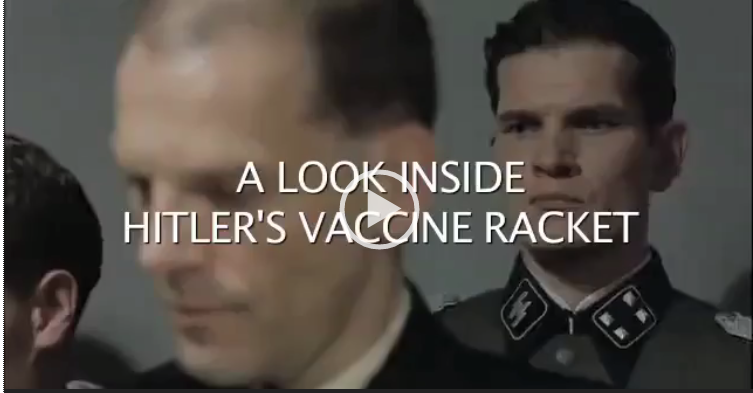 A Look Inside Hitler's Vaccine Racket
by
Dr. Leonard G. Horowitz
Quoting U.S. Supreme Justice Louis Brandeis, "Silence is often most persuasive evidence."
The silence censoring my works exposing the vaccine industry's early ties to the Nazi Party and financiers in the Rockefeller/IG Farben Petrochemical/Pharmaceutical Cartel is spoofed here for comic relief.
I published this "Look Inside Hitler's Vaccine Racket" in response to a number of events, including the UN AIDS Group members censoring my peer reviewed AIDS science and evidence of genocide. This silence concerning the obviously-tainted hepatitis B vaccines and polio vaccines that were contaminated with simian cancer viruses (SIVcpz) is most persuasive evidence for the world to ponder.
The UN's construction in New York City, where the first AIDS cases emerged, was largely financed by the Rockefellers. The family is widely known to have heavily invested in vaccines and eugenics–racial hygiene–through their Rockefeller Foundation and Cold Spring Harbor Labs. Their control over petrochemical/pharmaceutical policies, and "disease surveillance outposts" globally through multi-national corporate and government interests is widely known. Yet medical historians and mainstream journalists neglect these correlates and antecedents to certain disease such as AIDS, and the deaths that have resulted from these antecedents and disease control industry. The WHO, and the UN, for instance, makes no mention of this gross conflicting interest in their institutional history, nor of their commercial link to IG Farben and the Rockefeller Cartel fueling suspicions and 'vaccination hesitancy." And this problem, ironically, has been made one of the top ten global health challenges in 2019.
In reply to this irony, hypocrisy, vaccine hesitancy, and history of concealment of the UN's and WHO's conflicting interests with the Rockefeller Cartel, I published "A Look Inside Hitler's Vaccine Racket" for public education and comic relief.
For more information on this matter, see:
PART 1: A Conspiracy of Silence and Censorship Exposes 'Controlled Opposition,' Deep State Mind Control, Social-Engineering and Vaccination Depopulation Programs
PART 2: The VAXXED v. UN-VAXXED controversy;
PART 3: Measles Virus Cancer Cure Fraud and Cover-up;
PART 4: Leaked Mail, Mercola Meltdown, and Fauci and Plotkin Perjury Evidence Vaccine Racket Unwinding
PART 5: Controlled Opposition Media Denying, Defaming, Persecuting and 'Neutralizing' Doctors Under The Spell of MKULTRA / COINTELPRO; and
PART 6: The "Vaccine Safety Study Act" Can Save Millions, Possibly Billions of Lives
ABOUT THE AUTHORS