Original Article Removed from USDA website
Here  

Soybeans and Oil Crops: Canola Seed, Oil, and Meal
USDA ECONOMIC RESEARCH SERVICE BRIEFING ON CANOLA OIL
Global canola production has grown rapidly over the past 40 years, rising from the sixth largest oil crop to the second largest in recent years. Canola production was 10-14 percent of world oil crop production between marketing years 1998/99 and 2007/08. Canola oil, obtained from crushing canola seed, was the third most produced vegetable oil globally in 2007/08. Between 1998/99-2007/08, canola oil was 13-16 percent of world vegetable oil production. Canola meal is the second largest feed meal after soybean meal.
In 2007/08 (May/June), the farmgate value of U.S. canola production was $276 million. The U.S. share of world production remains small, but is of growing importance to regional economies in the Northern Plains. Almost all canola is crushed into oil and meal. Trends in the much larger Canadian canola industry have a significant impact on production and processing of canola in the United States.
Crop History
Since World War II, global production of rapeseed and canola has grown dramatically. During WWII, inedible rapeseed oil was used as a high-temperature lubricant on steam ships, but with the switch to diesel engines in the following decade, industrial demand declined. Initially, consumer demand for rapeseed oil was negligible because it naturally contains high amounts of erucic acid. Erucic acid was enough of a concern that in 1956, the U.S. Food and Drug Administration (FDA) banned rapeseed oil for human consumption. In addition, demand for rapeseed meal was low due to high levels of glucosinolates, a compound that at high doses depresses animal growth rates.
By the early 1970s, plant breeders developed low-erucic acid rapeseed (LEAR) varieties that also had low glucosinolates content. In 1978, the Western Canadian Oilseed Crushers Association registered these varieties with the name "canola" for marketing reasons. Over the next 10 years, European seed producers also developed LEAR varieties, which they dubbed "double-zero" or "canola-equivalent."
Due to the higher palatability of LEAR varieties, FDA granted the oil produced from LEAR varieties Generally Recognized as Safe (GRAS) status on January 1, 1985. With its low level of saturated fat, LEAR oil appealed to health-conscious consumers and production increased steadily.
Government support programs for minor oil crops began with the Food, Agriculture, Conservation, and Trade Act of 1990 and have decreased producer risk and increased profit for these crops. Canola producers became eligible for Marketing Assistance Loans/Loan Deficiency Payments in 1991, Oilseed Program Payments (a supplemental program authorized for 1999-2001 soybean and minor oilseed crops; see the 2001 Oil Crop Yearbook
for more information) in 1999, Direct Payments in 2002, Average Crop Revenue Election Payments in 2009, and Counter-Cyclical Payments in 2010.
The dramatic success of the canola brand in North America has caused the word "canola" to become synonymous with edible rapeseed in much the same way the word "Xerox" is understood to be a photocopy. Today, nearly all production in North America uses edible rapeseed varieties, and discussions of production typically refer only to canola. Other areas of the world where canola varieties are less widely used continue to use the term "rapeseed" for both edible and inedible varieties. This web page uses terminology familiar in North America.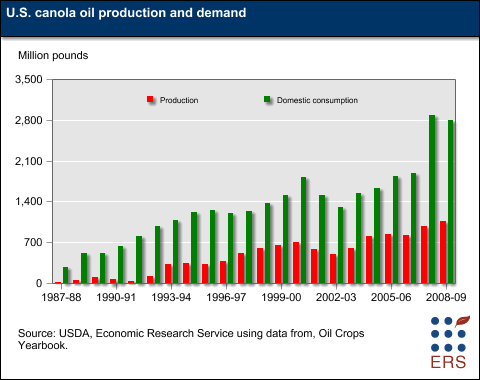 Canola Production and Processing
Global canola production is concentrated away from the equator in areas with dry weather and shorter growing seasons. In Europe, Ukraine, Russia, and parts of China, winter canola is planted between September and November before the winter begins. These areas freeze in the winter but temperatures do not get cold enough to kill overwintering plants. When spring arrives, canola emerges more quickly than it would if it were planted in the spring, producing a 20-30 percent larger yield. Spring canola varieties are primarily planted in parts of China, India, Canada, and the United States. Spring canola varieties mature as early as 85 days after planting, depending on the variety and weather conditions.
U.S. Production
U.S. canola production is concentrated in the Northern Plains where a dryer, shorter growing season makes corn and soybean production less attractive (see 2007 Census of Agriculture maps for Canola Harvested Acres). In 2008, 90 percent of production was in North Dakota, with smaller amounts in Minnesota, Montana, and South Dakota. Roughly 30,000 acres of canola grown for planting seed are scattered throughout Colorado, Montana, and Idaho to supply U.S. and Canadian farmers.
Producers apply nitrogen, phosphorus, sulfur, and potassium in the spring before or at planting. Sulfur requirements are higher than for other crops. New crop varieties that are resistant to herbicides have helped to decrease the risk and effort associated with canola production.
One of the most significant limits on canola production remains the small timeframe producers have to harvest the crop. To allay concerns over both immature seed problems (green seed) and seed shatter losses, canola is harvested at a specific point in crop development. Because canola ripens very quickly, there can be considerable time pressure on producers even if they stagger planting in their field with canola varieties that mature at different times. Producers generally swath canola in much the same way as spring wheat. They cut the ripening plants and leave them to dry in the field for 10-14 days. After the moisture content of the seed drops to a safe storage level, producers combine and collect the seed for storage or sale.
In the Northern Plains, canola is typically planted in rotation with small grains including wheat, barley, oats, and flax, although rotations vary considerably in this region and include many other crops. Ideally, canola is included in a rotation every 3-4 years to minimize the spread of pests and diseases. Other crops highly susceptible to Sclerotinia (especially sunflowers and dry beans) should not be planted in rotation with canola. Soybeans, lentils, and field peas are slightly susceptible to Sclerotinia but are still commonly grown in rotation with canola.
2007 Census of Agriculture
2007 Census of Agriculture
The 2007 Census of Agriculture reported canola production in 2007 steady with production in 2002 (see Canola production in the United States by farm size
). In 2007, 3,123 farms harvested canola, compared with 3,831 in 2002 and 2,892 in 1997. As the number of farms declined between 2002 and 2007, the amount of harvested acreage remained about the same. The number of large farms over 1,000 acres increased 23 percent while the number of farms under 100 acres declined 33 percent. Only 13,535 acres were irrigated in 2007.
Processing
Canola seed is typically not sold to consumers but is crushed at processing facilities into oil and meal. The small, round seed contains 38 to 45 percent oil. Crushing plants are able to remove most of the oil and nearly all of the remaining material is a suitable meal for livestock feed. Canola oil is the most valuable crush component and provides the majority of crushing plant revenue. Canola seed is first pressed to extract the bulk of the oil and, afterwards, most crushing facilities add a chemical solvent to remove the remaining oil. The supply of canola meal and oil are linked through the crushing process even though demand for these products is independent.
Major crushing plants in North America are located in central North Dakota and Prairie Provinces in Canada. One plant in North Dakota can process 1,000 tons per day or roughly two-thirds of the U.S. crop. The location of crushing plants facilitates trade between the United States and Canada because it is often cheaper for firms to import seed from across the border rather than purchase from a more distance domestic location.
Trade
As canola production has expanded over the past 20 years, global trade in canola seed and products has also increased. However, trade continues to be a smaller share of production compared with other major oilseeds. Trade in canola meal is limited due to the abundance of higher quality soybean meal and the high cost of transportation relative to the value of canola meal. Japan, Mexico, China, and the European Union (EU) are major importers of canola seed. The United States is the primary importer of canola oil and meal due to its proximity to Canada.
Canada accounts for more than half of world trade in canola seed, meal, and oil. Canadian producers continue to expand canola area and production. Demand prospects look strong due to growing use of vegetable oils in China and India and canola-oil-based biodiesel use in the EU.
The Canadian crushing industry is growing fast to support increased demand for canola oil. In the next 2 years, more than 1.5 million metric tons of canola crushing capacity is expected to be built in the Canadian Prairie Provinces. Some of the increased canola oil may be used to produce biodiesel. As Canada's nearest neighbor and fellow North American Free Trade Agreement (NAFTA) member, the United States will likely continue to purchase the majority of Canadian exports of canola oil and meal.
In the past few years, biodiesel producers in the EU have dramatically increased demand for canola oil and crush capacity has expanded considerably. Though EU canola production has expanded to support this industry, the EU has also become a significant importer of canola seed. Much of these imports arrive from Ukraine, Belarus, and Russia. These countries have expanded canola area over the past 5 years and there appears to be plenty of room for continued expansion if demand remains strong. Ukraine, in particular, doubled production in 2006, nearly did so again in 2007, and more than doubled output in 2008 to become the second largest canola exporter in the world.
Consumption
Canola seed
In the United States, canola seed is typically not consumed directly but instead crushed for oil and meal. A limited number of Asian countries, including India, consume canola seed as a source of food.
Canola Oil
Food use: Canola oil is the third largest source of vegetable oil in the world after soybean oil and palm oil, and demand is continuing to grow. In the United States, canola oil is used in frying and baking applications and is an ingredient in salad dressings, margarine, and a variety of other products. Canola oil appeals to health-conscious consumers because it has a low percent of saturated fat. High-oleic canola varieties have been developed recently that are used in commercial high-temperature frying applications to replace partially hydrogenated oils.
Industrial use: In the early 2000s, canola oil prices were competitive with soybean oil and biodiesel producers considered making biodiesel from canola oil. However, since that time, canola oil prices increased and in 2007/08 (May/June) commanded a 26-percent price premium over soybean oil. Due to increasing and inelastic canola oil demand for food use, it is unlikely that biodiesel producers in the United States will use significant amounts of canola oil. Instead, soybean oil and tallow are preferred for their lower price and wider availability.
Unlike the United States, the majority of European cars and trucks run on diesel. As a result, EU biofuels initiatives are primarily aimed at the production of biodiesel. Higher greenhouse gas reductions from biodiesel production versus ethanol production also favor this approach. Canola is the primary oil crop grown in the EU and Eastern Europe and abundant supply makes it the natural feedstock for biodiesel. EU biodiesel policies, especially cold-weather fuel standards, also favor the use of canola oil. With increasing biofuels mandates, industrial use of canola oil has grown rapidly in the EU, from 1.247 million metric tons in 2002/03 (July/June) to 4.919 million in 2007/08. In 2007/08, industrial use of canola oil was 65 percent of production, most of which was used to produce biodiesel.
A small amount of high-erucic acid rapeseed (HEAR) oil is produced in the United States. HEAR oil is used in a variety of industrial and consumer products, from lubricants, hydraulic fluids, and penetrating oils to fuel, soap, and paints. HEAR oil is biodegradable and is used in applications requiring high heat stability where the risk of oil leaking into waterways or ground water is significant. In the United States, HEAR is grown under contract and is not introduced to the regular grain handling system.
Canola Meal
Canola meal is the second largest protein meal produced in the world, although it is dwarfed in size by the production of soybean meal. In marketing year 2007/08, global canola meal production was 27.7 million metric tons, versus 158.3 million for soybean meal. Canola meal has a lower protein content than soybean meal (34-38 percent versus 44-49 percent) and fewer key amino acids. Therefore, for much of the world, canola meal is an economical protein source for animals that do not have high energy or lysine requirements.
Canola meal is primarily fed to cattle and pigs as part of a feed ration. The majority of canola meal in the United States is fed to dairy cows because the high fat content of the meal enhances milk production. Poultry, aquaculture, and specialty animals (including racehorses) can also be fed canola meal as a protein source although limited crushing locations, high fiber content, and low palatability limit feeding rates.
For More Information
USDA, Economic Research Service (ERS)
USDA, National Agricultural Statistics Service (NASS), Statistics by Subject (Click on "Canola" or "Rapeseed")

National Statistics
Link to Quick Stats, which contains data on planted and harvested acreage, yield, production, and value at the National, State, and county levels
Links to all recent reports on acreage, prices, production, stocks, and value

USDA, Foreign Agricultural Service (FAS)
USDA, Agricultural Marketing Services (AMS)